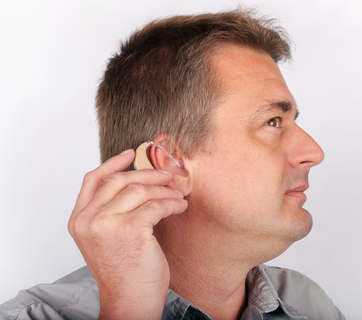 Hearing loss affects between twenty and twenty-six million Americans. In fact, it is the third most frequent chronic health problem facing senior Americans. After a comprehensive audiological assessment, we will determine which type of hearing aid is best for you and your unique needs, including the style and technology. This choice should reflect your needs, preferences, and budget. Your lifestyle, activities, physical limitations, cosmetics, and preferences will be considered when making recommendations for features and options. Precision Hearing Instruments brings 35 years of professional licensed experience. "Best Practice Protocols" are utilized at every step of our Professional Fitting Process:
All patients are medically cleared for hearing aid fittings.
All patients are given a comprehensive audiological assessment to determine eligibility for amplification.
Every fitting includes a "state of the art" verification of fitting treatment improvement by Acoustic Resonance Imaging.
Comprehensive outcome assessments are conducted to assure maximum patient communication improvement.
30-day trials are standard for all patient fittings allowing for return/exchange if adaptation to amplification is not met.
Our ongoing maintenance services ensure long-term benefits.
Excellent professional and caring service provided to me for over 25 years
Having hearing problems since I was a child, I have nevertheless been able to lead a full life . … The staff at Precision Hearing has taken the time to explain everything well ..anyone wishing to increase their hearing and understanding of what is being said will do well to set up an appointment with Precision Hearing Instruments. Read More
Audio Prosthetic Services are Available at:
Voorhees Twp, NJ
2301 E. Evesham Rd. Suite 306
Coastal Audiology
Phone: 856-795-5502
Precision Hearing Instruments
Phone: 856-428-0885
Toms River, NJ
Bey Lea Medical Center
54 Bey Lea Road, Suite 3
Toms River, NJ 08753
Phone: 732-451-1950
Manahawkin, NJ
24 Nautilus Drive – Suite 6
Manahawkin, NJ 08050
Phone: 609-978-9192
Our Offices:
Manahawkin, NJ
Phone: 609-978-9192
Toms River, NJ
Phone: 732-451-1950
Voorhees, NJ
Coastal Audiology
Phone: 856-795-5502
Precision Hearing Instruments
Phone: 856-428-0885
Manasquan, NJ
Phone: 732-451-1950